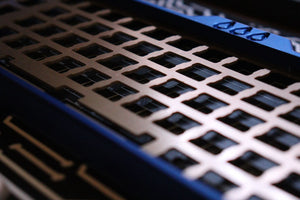 [CLOSED] RAINDROP 💧💧💧 Brass Weight Upgrade - Pre Order
Regular price
$50.00 USD
$0.00 USD
Unit price
per
Details:
Purchase this in the same transaction as your Raindrop Case to upgrade the weight from Annodized Aluminium to Brass. 
Group Buy Policy:
A pre-order product is purchasing one of the spares from the Group Buy before they arrive, hence all group buy policies also apply to pre-orders. 
Any additional items purchased with a group buy product will be shipped when the Group Buy product is ready to ship. 
By default, we set our expected group buy shipping dates 6 months out from the commencement of the group buy. You can expect to recieve your items before this time, however uncontrollable circumstances may cause this time frame to be extended. 
Due to the nature of a group buy, there are no refunds unless for faulty or misadvertised items. 
We aim to provide the highest quality Keyboards to our users. Our QA process should pick up any imperfections, however if a sub-par keyboard does manage to reach you, imperfections will be evaluated based on their location and size. The outcome of this evaluation may result in a full/partial replacement, full/partial refund or return depending on the severity of the imperfection.
By participating in this group buy, you agree to the items written above. We appreciate all of your support and cant wait to get this board in your hands. 
---